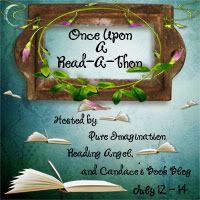 Thanks so much
Pure Imagination
,
Reading Angel
, and
Candace's Book Blog for hosting the read-a-thon. I didn't read as much as I would have liked, but I did get 3 books from my TBR pile completed.
Read:
My Name is Memory by Ann Brashares 336 pages
Infinite Days by Rebecca Maizel 336 pages
Manifest by Artist Arthur 256 pages
Total pages read: 928
Infinite Days
was definitely my favorite. I'll be working on reviews this weekend of the books I read. I also was lucky enough to receive two copies of
Infinite Day
s so keep a lookout for a giveaway on the blog soon. I though it would be a great way to celebrate passing
250
follows. Yay!!
Thanks again for hosting ladies!